Our children and adopters
If you're wondering – 'can I adopt?' then the good news is the answer is yes! We're not looking for you to be perfect – but we do want our children to find a safe, loving and happy home.
Many of our children have complex needs or emotional difficulties stemming from their early experiences. We'll work with you through the process to make sure you and your circumstances are the best possible fit for the child or young person.
There may be a number of reasons why a child is in need of adoption. In some cases a court will decide that a child needs to be adopted due to concerns for their long-term welfare. In other cases it may not be possible for the birth parents to look after the child and it is their decision for their child to be adopted.
Finding a good match for a child can take time. That's why we welcome and encourage adoption applications from all walks of life and different backgrounds, ethnicities and life experiences. You can adopt individually or jointly with your partner. You don't have to be married and it doesn't matter if you already have children or not. You have to be over 21. Our adopters include individuals, couples who are married, in a civil partnership, or living together. We welcome LGBT+ applicants and applications from families who already have children.
Harris and Neil's story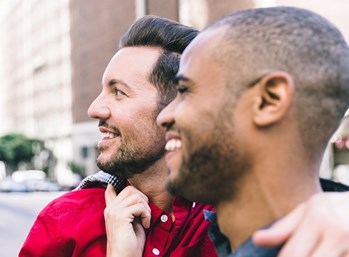 Neil and Harris adopted a baby boy:
"Our life has changed so much since we became parents; priorities change when you have a child, but that's the same for any new family. The first few days were hard work, having to become full time parents overnight is tough, but it gets easier and there are always those moments which remind you why you chose to adopt - whether it's a smile, a hug or a giggle.
It's been a year since our son arrived, we are about to celebrate his second birthday and his character is growing every day. He's a bright, confident and happy toddler who makes us laugh with his cheeky smile. It feels like he has been with us forever and we are looking forward to seeing him flourish even further in the future."