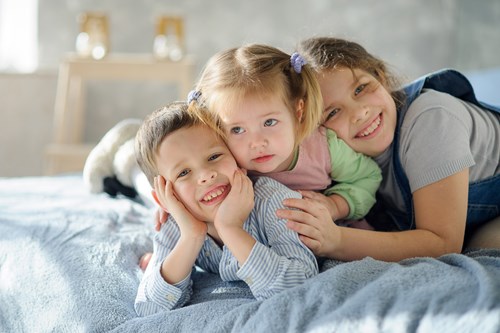 Charlotte and Stephen have adopted three siblings, a baby and his two sisters. Here Charlotte talks about their adoption journey:
"My husband Stephen and I began our adoption journey in 2012 after a few years of unsuccessful IVF treatment. We knew we wanted to adopt a sibling group and in January 2013 we were approved to adopt a group of two or three.
"Within a few weeks we were matched with a sibling group of two, Charlie a three-and-a-half-year-old boy and Ellie a 16-month-old baby girl. We finally brought our children home forever in May 2013.
"While Ellie was easy to love and care for, despite being on a number of medications due to being seven weeks premature, Charlie took longer to adjust. Being older Charlie had more knowledge of the situation and in the first few weeks and months we did have some very difficult behaviours to deal with. We turned to our children's foster carer for advice regarding Charlie's behaviour and did in the end seek help from a child psychologist, who specialised in working with adopted children. After only days of using their suggested techniques, the change we saw in Charlie's behaviour was amazing to see. When he finally started coming for cuddles and saying 'I love you Mummy' it was the best feeling in the world!
"With both children now happy, we were settling down to our new life as a family of four, when in August 2014 we got a phone call to say that the birth mum had give birth to a baby girl called Grace and would we consider adopting her. We spoke to Charlie and Ellie, who were very excited at the thought of having a baby sister, so we began the adoption process for a second time and in March 2015 Grace, who was now seven months old, came to live with us.
"We settled into being a family of five very quickly. There has been no regression in either Charlie or Ellie's behaviour since we adopted Grace. The children have a very close bond with each other and enjoy being together. We have a very strong support network, which has helped us along the way, and the thing we have found most valuable has been staying in contact with the children's foster carers (who we still see regularly) as this is a link to their past and a great source of help and advice for us.
"We love our family and can't imagine life any other way!"