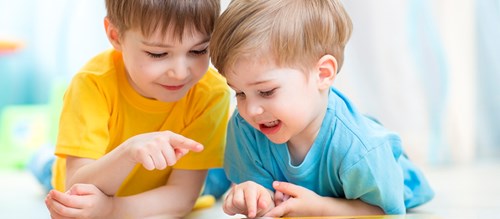 Freddy and James are lifelong best friends who will consistently stand by each other's side, providing unwavering support to each other throughout their lives. 
Hear from their adoptive parents
"Due to our past experiences with our siblings, we have always wanted to adopt brothers and sisters.
"We were matched with two boys aged 3 and 2 years old. The boys have two older half-sisters, 1 older half brother and 1 younger brother. We understood how important it was for us growing up, knowing that we could see our brothers and sisters and knowing about them. It made us understand how important it was for our boys to keep these relationships too.
There have been some challenges, including some sleepless nights, managing the boys' individual needs and some regression in behaviour, but we didn't have to face these alone. We have been supported through these times by our social worker and the children's social worker, through support groups and just meeting other adopters in similar situations to ourselves.
We can honestly say, that whilst it has not always been easy, the love, pride, and joy we and our whole family have in our two boys completely outshines any challenges we have faced.
We feel like the boys have been in our lives forever and have loved watching them grow and develop as separate children, but also as brothers and couldn't imagine our lives without them.
This is a real-life case study, we have changed the children's names and the image is posed by models to protect their identities.
Thinking about adoption
If you're thinking about adoption, then you can find out more at one of our information events.
Book a place at an information event