News
Finding forever homes for siblings across Lancashire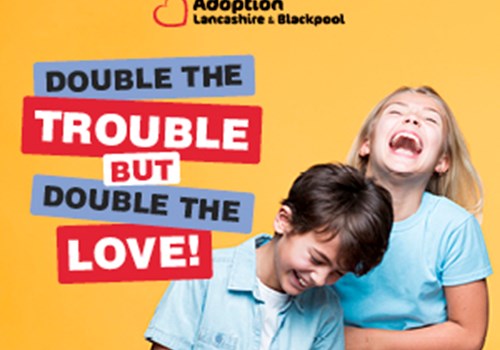 Due to an increasing requirement for loving families for brothers and sisters, Adoption Lancashire and Blackpool have launched a new campaign highlighting the need to keep them together.
The campaign, which you will see throughout Lancashire and Blackpool on buses, billboards, bus shelters as well as hear on radio, highlights the benefits of adopting more than one child and celebrates the irreplaceable bond of brothers and sisters.
Amongst those supporting the campaign are Helen, from Lancashire, who along with her partner Emma, became parents to brothers Jack and William back in February. (please note names have been changed and picture posed by models)
Helen said: "We met whilst we were both working within the residential care sector. We saw first-hand the number of children coming through the system and from the start we knew this was a path that we wanted to take.
"After an in-depth adoption process with Adoption Lancashire and Blackpool, we finally took home our beautiful boys in February and haven't looked back since.
"We considered and opted for adopting siblings from the start as we knew that we wanted more than one child and thought that this would be the best way to achieve this.
Adoption Lancashire and Blackpool is the regional adoption agency for the county and hopes this campaign will shine a spotlight on the need for families to come forward as well as break down some of the myths that surround adoption.
Throughout Lancashire and Blackpool, there are currently around 30 children in care awaiting adoption placements. Included in this figure is six sets of sibling groups all looking for a loving family.
Published: 07 October 2021