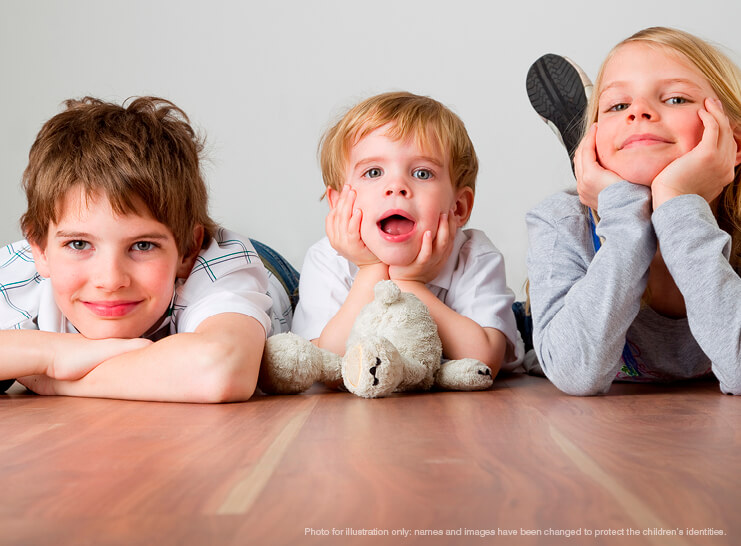 Children's Social Care had been supporting our family for a number of years due to concerns around our home life, unfortunately things didn't improve and we were placed with a foster family.
Our care proceedings concluded with a plan to return home after our mum had received some further support and things were a bit more stable. Sadly it was not considered safe for us to return home and a plan of adoption was agreed in court.
Could you be the family for us?
Let's tell you a little bit about us, our daily routines and what we like to do ….
Thomas, age 8
My name is Thomas, I'm the oldest of the three of us.
I'm in year 3 at school and I've just moved to a special school which is very exciting! I can struggle a bit at school and I used to find it a little difficult to concentrate on my work and I needed support from the teaching assistants. I sometimes struggled with my emotions too and sometimes things were a little overwhelming for me. My school used to try to help me but it was agreed that I should move to a special school where I might find things a little easier. I do like to try my best - but I can struggle.
At home my favourite things to play with are dinosaurs and pirates. I like reading stories about aliens and space stories and enjoy having Roald Dahl stories read to me. I really like music and I love to dance! My favourite songs to dance to are 'Ghostbusters' and 'The Monster Mash' - I'm quite a good dancer!
I love food and I'm not a fussy eater – I will try most things. We eat lots of healthy foods and I have a good appetite!
I have a lovely caring nature and I really enjoy having your attention. I enjoy having one to one time with my carers and I can also play alone. Me and my sister and brother get along most of the time, but we can also fall out over silly things and argue over toys.
If I am upset about something, my carers can talk to me and explain to me what is happening or why something cannot happen and I will listen. I benefit from a therapeutic and patient parenting approach.
I do enjoy a cuddle but not all of the time and usually I'll come to you when I feel I need a cuddle.
Before lockdown we'd go on days out together and I really enjoyed this.
Sarah, age 5
My name is Sarah! I love anything that glitters and sparkles!
My favourite things are unicorns, fairies, Frozen or Troll stories. I like Peppa Pig stories too. I also like it when we play board games or card games together as a family. I enjoy movie nights and love movies that have good music in them such as Trolls and I'll always get up and dance along!
As a family we often get wrapped up warm and go for a walk at the seaside, along the promenade or in the countryside. We love to get out and about and have lots of exercise.
When I get a little peckish, I can be a bit choosy with my food and I sometimes change my mind whether I like something even if I have eaten it before! I am very good at eating vegetables and I like lots of different foods. I do tend to try things most of the time, but my tastes change all the time!
When I am at school, I like the routine and I like to play outside. I have made some friends at school.
My carers say I am a fun loving little girl who needs lots of nurturing and love.
Daniel, age 2
My name is Daniel and I'm the youngest.
I am a happy little boy who enjoys attention and interaction from my family.  I can walk and run. I try my best to keep up with my big brother and sister when we are out on walks! I love character toys and dressing up. I like watching films like Trolls and Frozen and love music which we all sing and dance to. I have my own toys, but I also like to play shops with my brother and sister. We even have an ice cream parlour. We often have a dance whilst we watch our favourite films.
When it is warm and sunny, we like playing in the garden in the paddling pool with water squirters.
I am very good at talking for my age and know lots of words. I am quite independent and often have a little tantrum if someone tries to do things for me.  
I like lots of different food and have a good appetite! Although some vegetables can give me a rash.
At bed time I happily go to bed without too much fuss. I am in a good routine and sleep through the night.
Keeping siblings together
We are looking for people to come forward so that children like Thomas, Sarah and Daniel can be adopted together.
Sibling groups are among the children who wait longest to be adopted, as there are not enough people coming forward who are able to give them a safe, permanent and loving family.
It is important that the children are kept together as they have a very close sibling bond and it would not be in their best interests to split them up in order to find them permanent homes.
Could you be the family for siblings like Thomas, Sarah and Daniel?
This is a real-life case study written by the children's foster carers. We have changed the children's names and the image is posed by models to protect their identities